How Much Does a Tummy Tuck Cost? A Comprehensive Breakdown
If you're thinking about getting a Tummy Tuck, also known as an Abdominoplasty, you're not alone. Throughout our lives, perhaps no other area of the body is subject to as many changes as the abdomen.
Weight loss and gain, pregnancy, and other experiences can all take a toll on the skin, muscles, and other tissues of the midsection. Meanwhile, the condition of these tissues reaches a point at which exercise and dieting cannot change the appearance of the midsection, and surgery becomes necessary to achieve satisfactory aesthetics and comfort.
When it comes to the cost of a tummy tuck you may find that it's quite difficult to get a straight forward answer regarding cost. At Austin-Weston, it's our mission to provide patients with straightforward answers, so, in this article we are going to uncover the variables that go into the overall cost of a tummy tuck.
A tummy tuck can involve different combinations of techniques, all intended to help patients achieve a lean, toned midsection. The procedure almost always includes liposuction, tightening of underlying muscles, and removal of excess skin, all performed to various degrees. With so many possible variations on a tummy tuck, it can be difficult to pin down an exact price one might expect to pay.
The cost of a Tummy Tuck varies per person because it is tailored to meet an individual's anatomy and desired results. According to the American Society of Plastic Surgeons (ASPS) reports, the average cost of a tummy tuck is $5,798, however, it's important to note that this amount does not include other surgery related expenses that will come to make up the total.
When determining the cost of a tummy tuck, there are several other factors to consider, including:
Procedure Used
Most tummy tuck procedures require liposuction (the surgical removal of fatty tissue) and abdominal plication (the tightening of the abdominal wall). There are several methods of performing liposuction.
There are many different approaches to abdominoplasty depending on the degree of correction needed. You may come across a few marketing terms for the most common variations of this procedure, often referred to as a mini, traditional, or extended tummy tuck. Factors such as the amount of skin excision necessary and a person's aesthetic goals will affect which procedure is performed.
Depending on the type of abdominoplasty being performed, the incision usually goes across the abdomen, low enough to be concealed by the patient's bathing suit or underwear. With this incision, excess skin is removed, the muscle walls are tightened, and liposuction may be performed to remove additional fat. There may be a scar around the umbilicus (belly button) depending on the type of abdominoplasty performed and whether there is excess skin above the umbilicus. Most, but not all patients, choose to tighten the muscle during the tummy tuck procedure. Others can accomplish muscle tightening with exercise alone. The decision to tighten muscles is elective and your surgeon can discuss whether it makes sense for you from an aesthetic standpoint and give you the pros and cons regarding budget and recovery as well.
Surgeon Selection
The most important factor for you to consider as a patient is surgeon selection. Part of this is done by checking on the surgeon's online reviews and reputation. Another part is meeting the doctor in person to make sure they understand your concerns, and that you have a good feeling about interacting with the doctor and having your needs met.
A highly experienced, plastic surgeon may charge more than a less knowledgeable or respected doctor, but that isn't necessarily true. There are some novice surgeons who seek out wealthy clientele using aggressive marketing, but after reviewing that doctor's credentials, they may not be who they claim regarding experience, board certification, or skill.
All surgeons have their own approach to performing plastic surgery procedures as each doctor has different amenities at their disposal and different levels of experience and accreditation.
Geographic Location
The American Society of Plastic Surgeons (ASPS) lists the national average of plastic surgery physician fees. These prices vary widely among regions, with plastic surgery hotspots like Manhattan, Beverly Hills, Miami, Dallas and Los Angeles at the higher end of the spectrum. More lightly populated regions like North and South Dakota, Idaho, Mississippi and Arkansas charge much less. Mid-level costs are incurred in Phoenix, Tennessee, Ohio, Indiana, New Mexico and Illinois along with locations away from big cities within high-priced states.
The reason plastic surgery costs vary based on geographic locations, such as major urban centers, is usually due to higher overhead costs for surgeons in these areas. So, the first step in considering what you'll pay is looking at fees where you live and how much the cost of living is in that area. To find ballpark prices for procedures based on location by using the Healthcare Blue Book (it works the same way the famous Kelley Blue Book lists the prices of cars).
Surgery-Related Expenses
You should ask the surgeon directly if these are all the costs involved in your estimate. Since there are no set costs for any of these expenses, it can be useful to explore multiple options by meeting with several surgeons and getting estimates for not only their surgeon fees but also the additional surgical-related expenses. When estimating the cost of a tummy tuck, make sure to account for the following surgery-related expenses:
Prescription Medications
Post-Surgery Garments
Anesthesia
The cost of anesthesia for a tummy tuck can vary significantly for each patient depending on the extent of the surgery being performed and the time it takes. You want to make sure anesthesia is provided by a anesthesiologist or a CRNA (nurse anesthetist). If a surgeon uses a non-certified anesthetist nurse or a medical assistant to push the anesthetic drugs (and yes, unfortunately, this does happen), then your safety may be at risk.
Anesthesia costs are typically billed by the hour, and you should ask in advance what happens if the surgery goes longer than expected and who will pay the extra anesthesia time.
Surgical Facility
This is an important factor to consider not only because of overall cost but because it may put a price tag on the importance of your safety and satisfaction. The importance of having your procedure performed in an accredited surgical facility by qualified staff is critical in the decision-making process. Do not try to cut costs by sacrificing safety and having your procedure performed at a non-accredited practice or by a surgeon who is not certified by the American Board of Plastic Surgery.
The Austin-Weston Center for Cosmetic Surgery includes five fully-equipped surgical suites. These operating rooms are fully accredited by the Accreditation Association for Ambulatory Health Care (AAAHC), an association that certifies outpatient surgery centers. Our surgeons are board certified in plastic surgery and are fully insured, our Certified Nurse Anesthetists (CRNAs) are nationally certified by the Council on Certification of Nurse Anesthetists and all personnel is licensed and certified in Advanced Cardiac Life Support (ACLS).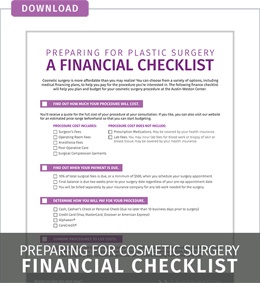 After calculating the cost of surgeon's fees, anesthesia, surgical facility fees and all other expenses, total fees for a tummy tuck can reach between $7,000 and $11,000. Many people don't have this amount of money at their immediate disposal, but when the decision is made that it's the right time to undergo the procedure, it becomes necessary to consider financing options. Practices almost always accept credit cards, but patients should carefully consider the associated interest rates of all available options. In addition, there are several third-party financing companies that deal exclusively with those who want or need treatments that are not covered by insurance.
Don't Cut Quality Corners
While cost is obviously an important consideration when it comes to plastic surgery, it is not the most important. Patients should remember that their health and cosmetic satisfaction are ultimately the top priorities. Choosing an inexperienced doctor to save some money could cost far more in the long run if they require a corrective procedure or if they develop serious health complications.
At Austin-Weston, our plastic surgeons are committed to providing patients with the results they desire and the care and safety they deserve. Click on the link below to find out more about your plastic surgery options, or call (703) 854-9841 to schedule a free consultation.
Additional Resources: