How Much Does Breast Augmentation Cost? A Comprehensive Breakdown
The verdict is out: finding a definitive answer on the cost of breast augmentation surgery can be quite difficult.
Many people have searched on Google, made some phone calls, or asked friends and family how much implants cost, but still haven't gotten a straightforward answer.
Why such an impossible feat?
To be perfectly honest, the reason is: there's no simple answer, due to a variety of factors that shape what makes up the final bill.
It's for those reasons we've created this article, to help women like yourself find the answers to how much breast augmentation surgery costs, and why you may have seen such a wide range of estimates.
Here at Austin-Weston, we've been in practice for almost 40 years, and during that time we've performed tens of thousands of breast augmentation surgeries and helped women achieve their desired results.
So, in this article, we're going to break down each of those factors to give you a closer idea of the cost of breast augmentation surgery and hopefully a more realistic view of what to expect to help in making that final decision toward a better 'you'.
Breast augmentations are the top surgery performed in the United States with 290,467 procedures in 2016 alone, up 4% from the year prior.
The term breast augmentation is often an umbrella term for several types of surgical procedures including:
Breast Lift
Breast Reduction
Breast Reconstruction
Breast Implants or Revisions
When making the decision of whether or not to have breast augmentation surgery, there are a variety of factors to take into consideration, but the one question we see most often is, "how much does it cost?"
According to statistics from the American Society of Plastic Surgeons (ASPS), the national average cost for breast augmentation surgery is $5,822.
However, it's important to note that this cost can vary dramatically from one patient to another and often does not include other surgery-related expenses. Generally, the major costs that factor into your total are the surgeon's fee, facility fee, anesthesia fee, post-surgery fees and cost of implants.
So, to provide a somewhat straightforward answer, the overall cost of breast augmentation surgery can range from $5,000 to $10,000.
But again, the final cost will depend on a variety of factors and variables of the following:
Surgeon Selection
All surgeons have their own approach to performing breast augmentations as they have different amenities at their disposal and different levels of experience and accreditations.
It's fair to assume that selecting a surgeon can singlehandedly be the most significant influence when it comes to the total cost of a surgery.
For example, at Austin-Weston, our three plastic surgeons have accumulated a combined 75 years of experience, and with that have cultivated an excellent reputation in the DC Metro Area community, performing several breast augmentations each week.
We can only speak for ourselves when we say that each surgery is preceded by an extensive consultation involving computer analysis and imaging technology, as well as the master-eye of our surgeons to ensure that we deliver satisfying and life-changing results for our patients.
Geographic Location
The American Society of Plastic Surgeons (ASPS) website lists the national average of plastic surgery physician fees. However, the fly in the ointment is that total prices vary widely among regions, with plastic surgery hotspots like Manhattan, Beverly Hills, Miami, Dallas and Los Angeles at the higher end of the spectrum.
More lightly populated regions like North and South Dakota, Idaho, Mississippi and Arkansas charge much less. Mid-level costs are incurred in Phoenix, Tennessee, Ohio, Indiana, New Mexico and Illinois along with locations away from big cities within high-priced states.
The reason plastic surgery costs vary based on geographic locations, such as major urban centers, is usually due to higher overhead costs for surgeons in these areas. So, the first step in considering what you'll pay is looking at fees where you live and how much the cost of living is in that area.
To find ballpark prices for procedures based on location by using the Healthcare Blue Book (it works the same way the famous Kelley Blue Book lists the prices of cars).
Surgical Facility
This is an important factor to consider not only because of overall cost but because it may put a price tag on the importance of your safety and satisfaction.
The importance of having your procedure performed in an accredited surgical facility by qualified staff is critical in the decision-making process.
Do not try to cut costs by sacrificing safety and having your procedure performed at a non-accredited practice or by a surgeon who is not certified by the American Board of Plastic Surgery.
The Austin-Weston Center for Cosmetic Surgery is a beautiful, free-standing surgery facility located in Reston, Virginia, fully-equipped with five surgical suites. Our operating rooms are fully certified by the Accreditation Association for Ambulatory Health Care (AAAHC), an association that accredits office-based surgical facilities.
Our surgeons are board certified in plastic surgery and are fully insured, our Certified Nurse Anesthetists (CRNAs) are nationally certified by the Council on Certification of Nurse Anesthetists and all personnel is licensed and certified in Advanced Cardiac Life Support (ACLS).
Surgery-Related Expenses
You should ask the surgeon directly if these are all the costs involved in your estimate. Since there are no set costs for any of these expenses, it is important to explore multiple options by meeting with several surgeons and getting estimates for not only their surgeon fees but also the additional surgical-related expenses.
When estimating the cost of a breast augmentation, make sure to account for the following surgery-related expenses:
Prescription Medications
Post-Surgery Garments
Type of Breast Implant (Silicone vs. Saline)
Anesthesia Fees
The cost of anesthesia for breast augmentation surgery can also vary. If a board certified anesthesiologist is used then the price for a breast augmentation will be higher. If a CRNA (nurse anesthetist) is used then the price will be lower.
Another factor that can decrease cost is when a doctor uses a non-certified anesthetist nurse, or a medical assistant to push the anesthetic drugs (and yes, unfortunately, this does happen).
This is an hourly fee, and if the surgeon is taking his time to make the results as meticulous as possible, the anesthesia fee will be higher. This can also vary depending on the technique used for the surgery, which can sometimes take longer or shorter to perform.
Comparing the Cost of Breast Implants
While it is essential to have a basic understanding of the other factors that influence the cost of a breast augmentation, one of the most significant is your choice of breast implant.
The price for breast augmentations varies depending on an individual patient's goals and needs with surgery.
When considering cost as it relates to silicone versus saline breast implants, a key component to think about is the look and feel you are trying to achieve. Are you looking to go with a more natural look and feel, or would you prefer a substance that is a bit firmer but has a similar composition to the fluid that makes up most of the human body?
Silicone gel breast implants are more expensive, as they are filled with a cohesive gel that holds together uniformly while retaining the natural give that resembles breast tissue. These are prepared by the manufacturer and tested for quality to ensure uniform fill volumes. There are several different types of silicone implants so the cost per implant does have some variability. In the world of silicone implants, there are some such as 'gummy bear' or 'shaped' implants that cost more than regular round silicone implants. The surgeons at Austin-Weston offer every commercially available breast implant that is accessible in the United States.
Saline-filled breast implants are more affordable, as they are filled with a saltwater solution similar to the fluid that makes up most of the human body, but they are slightly firmer to the touch and are filled by the surgeon during the breast augmentation procedure.
Aside From Cost
While cost will always be a factor, it should not be the only reason for selecting one plastic surgeon or practice over another. There are a variety of other elements to consider when making your decision:
Surgeon's Experience
Ratings and Reviews
Surgeon Comfortability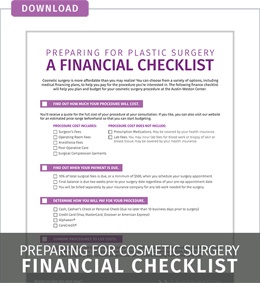 After calculating the cost of surgeon's fees, breast implants, anesthesia, surgical facility fees and all other expenses are compounded, it often reaches a total between $5,000 and $10,000, if not more.
Many women who desire a breast augmentation don't have this amount of money at their immediate disposal, but when the decision is made that it's the right time to undergo the procedure, it becomes necessary to consider financing options.
Practices almost always accept credit cards, but patients should carefully consider the associated interest rates of all available options. Also, there are several third-party financing companies that deal exclusively with those who want or need treatments that are not covered by insurance.
Don't Cut Quality Corners
Another component to consider is the breast implant warranty. Warranties add value to your breast augmentation package by protecting you from additional costs down the road. Some warranties are free with the purchase of implants.

All primary breast augmentation surgeries performed at Austin-Weston come with a three-year warranty, free of charge. This covers implant malposition, capsular contracture coverage at no cost, and implant size changes at the cost of the implant only.
Selecting a well-qualified, plastic surgeon and asking the right questions will increase your chances of getting the most favorable return on investment, which is exactly what plastic surgery is: an investment in 'you'.
The three surgeons at Austin-Weston are dedicated to providing patients with the results they desire and the care and safety they deserve. To find out more about your plastic surgery options, please call (703) 854-9841 to schedule a free consultation.
Additional Resources: